So I decided to act on the 50% off pills sale Blue Star recently had on their site, and use their very generous $25 gift certificate they gave me for my last review. I wanted to try out their new Sleep aid Blade PM since I had such a good time with Shake One. So from time to time I will toss in my results for the night, bear in mind I am not using this for Fat Burning (though it is not a bad effect to have), but more for the sleep aid aspect.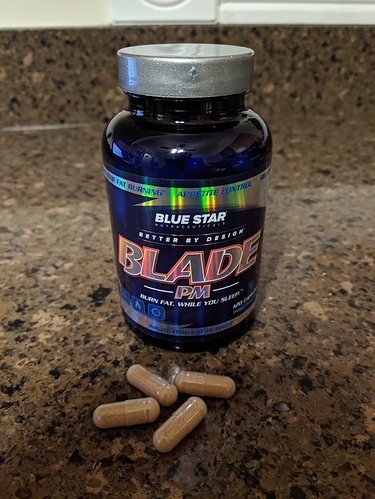 I started this last night so here are the results:
Night 1: Directions state to take 1 hour before bed time, but I tend to take my sleep aids then watch some tv in bed. Well in less than 30 minutes I was out like a light which was awesome, because lately it has been taking me almost an hour to fall asleep. I got 6 hours and 20 minutes of uninterrupted sleep straight before I woke up. Granted I would like some more sleep, but this is a good start as I tend to always wake up at least once in the night. So far so good.
I will post more as this month goes along…