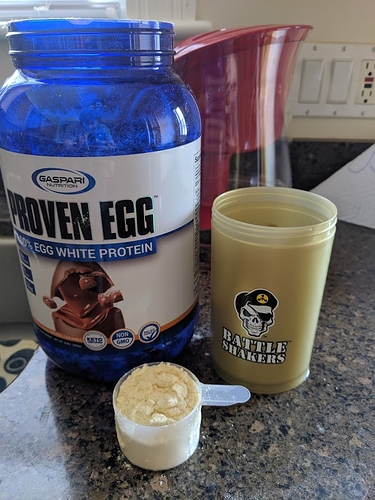 Why I chose this
Well, I got this as a defacto "winner" thanks to the fun Gaspari March Madness contest. I never really branched out from Whey protein, so I thought this would be a good chance to see what an Egg White Protein is all about. So a big thank you to
@GaspariNutrition
,
@GaspariDan
,
@Dougefresh93
and Price Plow for the opportunity to give this a shot.
Ingredients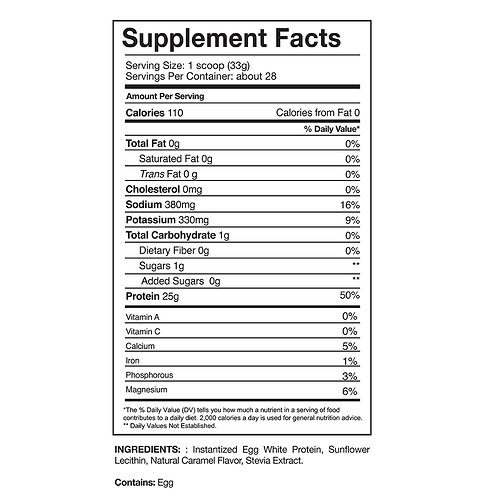 First of all for a protein powder the ingredient label is nice and simple. No extra fillers or nonsense here. Each 33g scoop gets you 25g Protein, 1g Sugars, 1g Total Carbs, and no fat. The protein is Instantized egg white protein, and the only added ingredients to that are Sunflower Lecithin, Natural Caramel Flavor, and Stevia Extract. So sure the caramel is added, but thats the flavor LOL. A nice natural ingredient profile here.
Dosing
Its a regular protein powder so you take this as needed in your daily regimen. I would always take this Post Workout, and at times Mid Day and Pre Workout. No matter when I dosed this I would only ever use 1 scoop at a time.
Mixability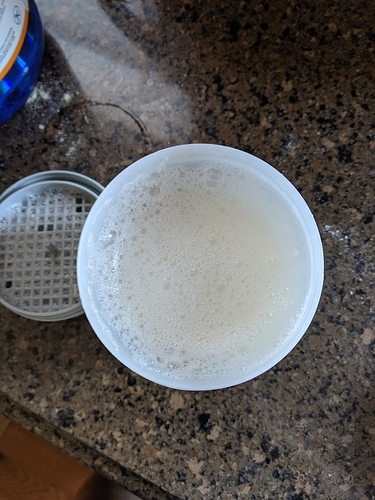 As you can see you get some foaming upon initial mixing and shaking. This is to be expected because if you have ever messed with egg whites you know that they tend to foam when shaken. The foam never interfered with me drinking this right after shaking, so its not a big deal. Also there will be foam left on the bottom and you will see lots of foam when washing out your shaker, but again nothing to be concerned with. Honestly for me, this proved that Gaspari used legitimate Egg Whites!
Taste
Salted Caramel: I am not usually a Salted Caramel fan or protein powders or anything outside of Salted Caramel Chocolate. I decided to let the fine people of Gaspari pick me out a flavor and we got Salted Caramel. I have no regrets as this is the first and only Salted Caramel protein powder I have enjoyed. You get a nice subtle hint of Caramel once the taste settles in, and I swear I almost taste some chocolate in there. It even smells terrific. I had no problem drinking this once or twice a day, and actually looked forward to it. I never got tired of the taste either. So yeah give this a shot!
I let my wife try a few sips and smell this as she loves Salted Caramel anything, and she thought it was delicious and loved the smell!
Results
Overall, I really was surprised at how much I enjoyed my run of Gaspari Proven Egg. I always think different types of protein outside of Whey are for such a small niche market or are all for gimmicks but this one has PROVEN me wrong. I typically rate my proteins on how it digested and how I felt after drinking it.
Digestability: The biggest benefit I found with this protein was how well this digested for me. It digested quickly and I never felt bloated or as if the protein was sitting in my stomach. I was really surprised at the digestability here. I have had Whey with enzymes added to ease in digestability and it comes close, but this is the best digesting protein I have ever had.
How I felt after drinking it: This would fill me up for a half hour to an hour which was great, since I usually have about an hour break from lifting to eating breakfast. This is not a protein designed to keep you full for hours since its egg whites and digests very quickly.
So yes, this surprised the hell out of me and I am glad to have finally found an alternative to Whey Protein if I ever need one or just want to mix it up. Great job here and now I am curious how the Chocolate tastes.
Price
Best price I can find this for is $39.99 for around 28 scoops from Natural Body Inc. That comes out to $1.43 per serving, which yes is a bit expensive when compared to Whey, but that is not a fair assessment. Sure there are other Egg White Proteins that are cheaper but they also do not even compare when it comes to the label and quality you get here. I would have no issue with this price and you can always ask the fine gentlemen here on PP for a deal! For such a clean profile, its a fair price.
In closing, Gaspari has been a company that has fallen off my radar for a while. This Protein powder puts it right back in my Supplement radar, and I look forward to seeing what else the company comes out with. Of course, though I do like the Anavite pills, but nothing I order on the regular. Time to give Gaspari more love!