I'm jumping in. Thanks Bob!
Yes sir. ill shoot you a DM
I'm in if still available! I've been debating on getting a tub of the Salty PB for awhile now.
Yes Sir
Please DM me the specifics.
The Salty PB will blow ya mind!
1 Spot Left for Samples
1 person needs to finalize payment
Once I get all the samples in they go out with extras!
I will bag up the chocolate brownie out of my own tub for you guys to try in the vegan variety
5th Slot is filled.
Once the BEAM Samples come in I ordered I will ship out with extras for everyone.
I can't wait to hear your feedback
Samples are shipped
Monday at the latest pending if USPS is accurate
Some of you may get this today if not Monday
Keep in touch fellas
Got my package in the mail yesterday. I appreciate some extras being thrown in @TheSolution! I'll post my thoughts here as I go through the samples. Definitely most excited to try out the Salty Peanut Butter whey protein. Also, one of the pre-workout samples split open during shipping but no big deal as I was able to salvage most of it into another baggy, so that's why only one is in the picture. Appreciate the hookup and can't wait to try all these out!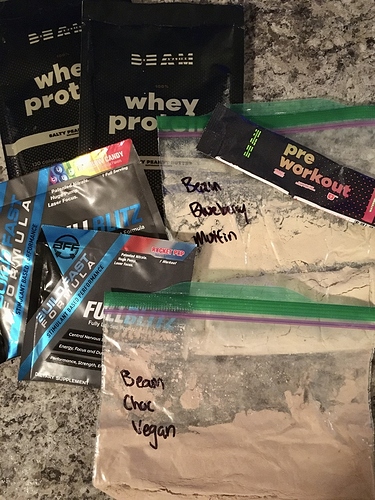 Hell yeah man!
Can't wait for the write-ups and reviews.
Bob is and always will be the forum MVP.
Got the goods today. Same package as @Bryan_Walsh. I'll start trying them out tomorrow. Thanks Bob!
Toss up a pic, tag me on IG too if ya guys don't mind on your IG Stories
@Bkupniewski
If you post on your IG stories. This way I can repost/tag
@Youcanbeam
@Tsingh
@yewdell
Look forward to your 2 cents.
I just reread the PricePlow write-up on the pre workout. I'll be giving it a go on my next back/leg day which will either be Friday or Saturday. I usually go slightly lower stim for legs. My breathing can get crazy on Bulgarian split squats. The pwo should be perfect with 250mg caffeine and the added focus ingredients. Excited to see how those big doses of Theobromine and Tyrosine treat me. I'm sure I've never gone that high with either of them.
Keep us updated man. Thanks again for your support.
For those interested in FREE samples:
Grab any 4 samples off the webpage (Iso, Vegan or Pre)
Link:

Coupon: BEAMPACK
Just pay the shipping.
A good way to try before investing in the product
Coupon should be BEAMMeUp