Bang Cherry Blade Lemonade
Taste
Cherry Blade Lemonade - Cherry Blade Lemonade - If you have ever had Black Cherry Vanilla VPX carried over the same exact cherry taste into this drink. The big difference here is the aftertaste which is composed of the lemonade and Lime. At first sip your taste buds get smashed with the bold and dense cherry flavor. Once you reach the aftertaste is where a subtle and refreshing lemonade and lime flavor kicks in. There is a 70/30 ratio of cherry to ilmeade/lemonade in this flavor that was done just right. The combination of the two flavors is refreshing, but packs that strong flavor Bang is known for with their carbonation. I am by no means a fan of lemon in general, but the combination of both flavors goes very well together. This is easily one of my FAVORITE flavors ever made from bang and would put it right up there at #1 next to Sour Heads and Cotton Candy. The amazing mixture of lemonade and lime (The green on the can which I think it resembles) it phenomenal. HIGHLY Suggest getting this flavor.
Profile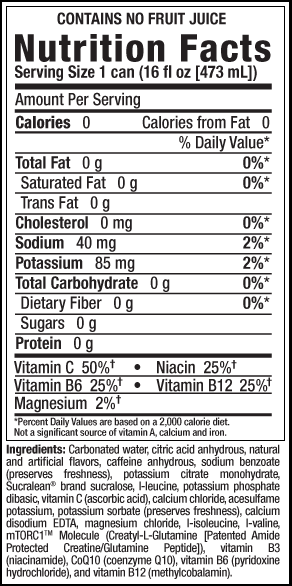 Bang is an energy drink that is made up of a prop blend including BCAA's, Taurine, Creatine, COQ10, Vitamin B6/B12. We do not know the full amount of each of those ingredients due to being disclosed in a blend.
Cost
Bang averages around $22-23 a Case and sometimes dip below $18-19 a case when found on sale. If you pop into a local gym or store you may pay upward to $2.50-3.50 a can making it always the cheaper option to buy per case and online.